EAU DE POLOGNE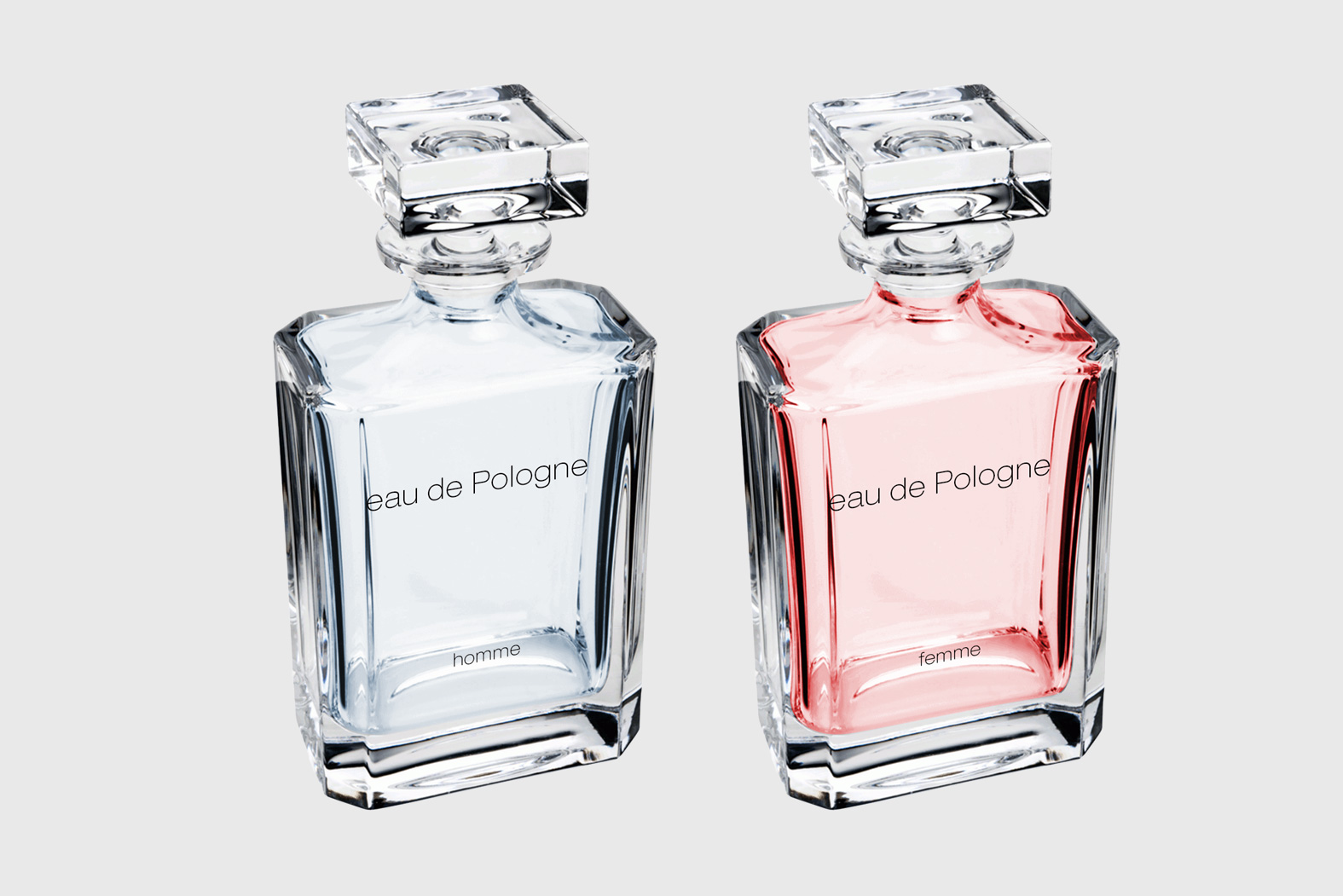 PERFUMY
EAU DE POLOGNE / Bio Art Projekt 2002
W ramach poszukiwań twórczych w przestrzeni sztuki/biznesu wpadłem na pomysł i opracowałem koncepcję ZAPACHU POLSKI w formie perfum będących kompozycją esencji polskich kwiatów, łąk, traw, zbóż, lasów, drewna, mchów, owoców, warzyw, grzybów, minerałów, innych roślin i innych, charakterystycznych dla tego miejsca składników pozyskanych również od zwierząt i ludzi uzupełniających ten wyjątkowy skład.
Linia dla kobiet: róża, ogórek, mirabelka, lipa, gruszka, trawa, melisa, minerały, ziemia, akacja, magnolia, łubin, bez, marchewka, mąka, len, malwa, mak polny, poziomka leśna, puder, lilia wodna, czerwona porzeczka, agrest, krew, krochmal, morela, mirabelka.
Linia dla mężczyzn: drewno dębu, drewno klonu, tytoń, piżmo, mech, śliwka, słoma, trawa, aloes, jodła, skóra, sierść dzika, gryka, czarna porzeczka, masło, chleb, bursztyn, pieprz, mielona kawa, owies, jabłko, śliwka, rozmaryn, żywica, fenkuł, pigwa, spadź, tatarak, mak polny, łzy, mokry beton, orzechy bukowe, młody orzech włoski, fiołek, świeży ogórek, melisa.
W zaprojektowanych do tego celu flakonach perfumy Eau de Pologne i towarzysząca temu kampania PR miały stać się komercyjnym produktem promującym i wspierającym wstąpienie Polski do Unii Europejskiej. Cały pakiet: zmysłowy zapach, nowatorski design flakonu i opakowania, piękni ludzie i mądre, głębokie przesłanie tworzyły unikatową i rewolucyjną w tamtych czasach formułę prezentacji. Projekt został wyróżniony i zajął drugie miejsce w konkursie organizowanym przez Ministerstwo Spraw Zagranicznych, którego celem była promocja i poprawa wizerunku Polski w Europie.
PERFUME
EAU DE POLOGNE / Bio Art Project 2002
As part of my creative search in the art & business space I came up with an idea and developed the concept of POLISH FRAGRANCE in the form of perfumes that are a composition of the essence of Polish flowers, meadows, grasses, cereals, forests, wood, mosses, fruits, vegetables, mushrooms, minerals, other plants and other ingredients characteristic of this place also obtained from animals and people complementing this unique composition.
Women's line: rose, cucumber, mirabelle, linden, pear, grass, lemon balm, minerals, soil, acacia, magnolia, lupine, lilac, carrot, flour, flax, mallow, poppy, wild strawberry, powder, water lily, red currant, gooseberry, blood, starch, apricot, mirabelle.
Men's line: oak wood, maple wood, tobacco, musk, moss, plum, straw, grass, aloe, fir, skin, hair of boar, buckwheat, black currant, butter, bread, amber, pepper, ground coffee, oats, apple , plum, rosemary, resin, fennel, quince, honeydew, calamus, field poppy, tears, wet concrete, beech nuts, young walnut, violet, fresh cucumber, lemon balm.
In the bottles designed for this purpose, Eau de Pologne perfume and the accompanying PR campaign were to become a commercial product promoting and supporting Poland's accession to the European Union. The whole package: sensual fragrance, innovative bottle design and packaging, beautiful people and a wise, deep message created a unique and revolutionary presentation formula. The project was awarded and took second place in a competition organized by the Ministry of Foreign Affairs, which aimed to promote and improve Poland's image in Europe.